Back to overview
Is North Brabant the de-facto development region for the arts? And how do the various organisations — the workshops, presentation institutes and artist-in-residence programmes — collaborate? Over a two-day bus trip, we visited a myriad of special sites to better understand how each one helps shape the dynamics of the cultural field in this province.
Day 2 of our road trip begins in 's-Hertogenbosch at Willem Twee studios, with Kurt Vanbellechem as the moderator. Henri Broeren talks briefly about the synergy between this location and the Willem Twee factory that has studios, a music venue and a large exhibition space. The analogue equipment found in the attic of the Toonzaal (a former synagogue) spans roughly forty years of musical history, with the rare ARP 2500 synthesizer as its prized possession. This site has exceptional opportunities for musicians, as well as for artists who research sound, by virtue of its educational offering, its spaces for hire and its artist-in-residency programme.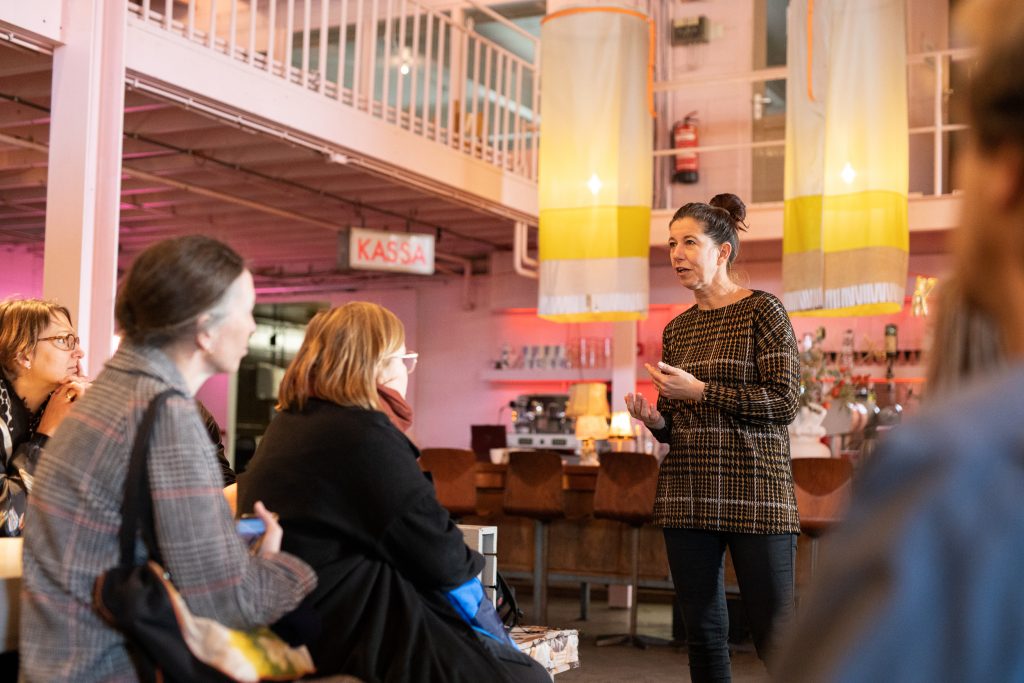 Our morning rolls on with our next stop, Werkwarenhuis, located on the Tramkade site. Simone Kramer speaks about Social Label and the Werkwarenhuis. The Werkwarenhuis grew out of a ten-year experiment for creative space in the railway zone of 's-Hertogenbosch. Here you will also find Social Label: a social renewal lab that imbues design with meaning. Their process involves designing labour and creating new opportunities through the power of design and communication. To achieve this, Social Label partners with diverse workplaces in care facilities and companies throughout the Netherlands. The lab draws upon the knowledge and strength of the people employed by these workplaces while connecting them with a designer to create a customised product line. This unique story, which practically tells itself, has infiltrated various international design weeks, such as Milan that are attend not only only the designers, but also the makers from the workshop.
On behalf of November Music, a festival for new music, Bart van Dongen , composer and founder of Paviljoen Ongehoord Muziek in Eindhoven, talks about talent hub music where various organisations are committed to talented musicians. Van Dongen's talk is more a plea to let go of the profundity of rules so that new generations can conduct their own quest without a defined career perspective in sight, because that does not even exist. In fact, he says, you can take care of yourself by simply thinking, looking around and creating your own market. This does, however, demand something from society: that everyone be given the opportunity to become acquainted with quality, that the radio dare play experimental music – like just across the border where you can hear Pierre Schaeffer. And, that music be given a stage without having to focus overly on audience numbers. Such was the case in Groningen where, in the 1980s, the cafés were only allowed to stay open longer if they were hosting live music. A wonderful incentive that did not cost a single extra cent in subsidisation.
After the applause and lunch, it is a short jaunt to the Willem Twee factory, home to Grafisch Atelier 's-Hertogenbosch. Ine Rutgers, the new director as of September, welcomes us before talking briefly about their brand new plan for an artist-in-residence programme in collaboration with the Frans Masereel Centre (Belgium) and AKV | St. Joost. Next, Peter Koene steps up to explain more about the possibilities and facilities of Grafisch Atelier. The time-honoured tradition of this workshop can be traced back to the diverse printing techniques possible here, including high-pressure techniques like woodcuts and lithography; and gravure printing, such as etching and the Toyobo print. The recently purchased Risograph, a printer-duplicator more akin to traditional stencils, offers even more modern possibilities. With no less than seventeen workshop masters, the Grafisch Atelier has many in-house specialists who offer master classes, workshops and courses, but one can also work independently here. Exhibits are organised annually, case in point the Grafic Works art fair and there are artists' works for sale, such as the special friends print.
Our journey continues as we head for Strijp-S in Eindhoven. This is the site of Baltan Laboratories within Natlab, which houses various organisations. Marlou van der Cruijsen, programme manager, explains how Baltan focuses on research, experimentation and collaboration with cultural-social themes. For instance, the lab is working with housing corporation Trudo on an artist-in-residence course about the transition to Strijp-S, the former industrial park of Philips[Ma1] . Two designers are conducting intensive research into the (inter-subjective) experience of the public space through design interventions, photography, desk research and interviews. The output of their investigations is linked with issues concerning gender, social inclusion, surveillance and urban planning. Technology is a means for prompting new questions and forming critical insights, in tandem with designers, companies, residents and other relevant stakeholders at Strijp-S. Baltan shares its results and projects with the wider world in various ways, such as its recent participation in Dutch Design Week .
Guest speaker Ad Vlems from Ecodorp Boekel presents the plans for a sustainable residential community that he is helping to develop. The Eco Village was born out of the feeling he had, as a new father, that he should improve the future for the new generations. Besides sharing living space and knowledge (in collaboration with an eco-village in India) on sustainable living, he also wants artists to connect with green ambitions by offering an artist-in-residence programme. Ad is very receptive to good ideas, so he follows the suggestion of Mariska van Zutven. Why Boekel? Boekel as the backdrop for the eco village was purely coincidental. While on the hunt for a location, Vlems and associates ran into the mayor of Boekel. A town that has a certain notoriety with the ministry[Ma2] , given that 'Boekel is a municipality that pushes the limits of the law, but always for the benefit of its citizens'.
Beeldenstorm/Daglicht , the fusion of two organisations, marks the last stop of the day. These two studios were once located on the campus of the Eindhoven University of Technology, but they ultimately decided to continue working together at a new and improved site. The industrial building is an outstanding fit for this experimental sculpture studio. Lex van Lith stresses that they do not give workshops. Rather, Beeldenstorm/Daglicht is about experimentation and discovering new things that you do not encounter if you only perform. For whatever the studios are unable or unwilling to do, they cooperate with other partners, such as EKWC and Glaslab in 's-Hertogenbosch, but also with De Fabriek, which has a presentation stage they can offer.
Koen Dijkman of De Fabriek explains that, in addition to exhibits, they host two-month working periods in their large hall. Our session concludes with a text and a short presentation. In the near future, however, the work being produced here will be shown for a longer period. The graphic studio Daglicht , separated from Beeldenstorm by a few plastic flaps on account of the dust, specialises in large formats. Originating from a magazine, Daglicht worked at different locations before eventually alighting here to work as a single organisation.
Pauline Roelants of United Cowboys has also collaborated with Beeldenstorm. United Cowboys is a place for dance and performance where artists in the broadest sense of the word explore their methodology through physical actions and exchanges with other art forms. At United Cowboys, the working periods are not strictly defined. Nor would this be possible because everyone must be able to fully develop themselves, confident in the knowledge that gathering, paying careful attention and eating and drinking together makes for a productive formula. Each quarter, the participants hold a Seasoning to view the results of the working period. For this event, the artistic team curates a programme with regional, national and international artists. And the name: they once made a piece called Untitled(Cowboys), which became an umbrella term for recognition, broader vistas, and pioneering actions.
Astrid Cats from TAC , the Temporary Art Centre, represents one of the larger free spaces in Eindhoven. During its seventeen years of existence, TAC has acted as a breeding ground where people from studios, catering establishments, performances and exhibits can mingle and form organic connections. A place where artists can submit proposals and conceive working methods, such as working periods. Experimentation is also possible here. Experimentation is possible, such as a mini AIR called Motel Win Win, invented by TAC staff. You can spend the night here if you offer something in return for TAC, the neighbourhood, the city or the arts. And, a small scoop for readers, TAC is set to lose its status as a 'temporary' space as it will be purchased by the foundation. Consequently, TAC will not only be able to offer cultural entrepreneurs new opportunities, but it will also preserve square metres for art. A lovely take away after two days of inspiration, networking and knowledge acquisition about the cultural infrastructure of Brabant.
Author: Esther van Rosmalen Editor: Kyki Vermaire Photographer: Tim Meijer